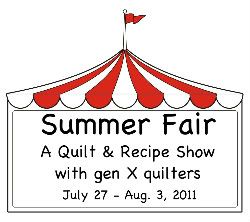 AnneMarie at Gen X Quilters
is hosting Summer Fair: A Quilt and Recipe Show. I haven't finished a quilt yet, so I don't have an entry for that category. However, I do have a recipe to share with you!

You know that can of pumpkin pie mix that gets bought by mistake, then sits in cupboard until it gets donated or tossed? (That's what usually happens here.) That darn can of pie mix sat in the cupboard, taunting us, daring us to find a use for it. So we did. We had a pumpkin muffin recipe that we liked, but wanted something that was quicker, so we decided to throw some pumpkin in the pancake batter. We love the results and only rarely make pancakes without pumpkin now. Puppy Boy, who's a picky eater, devours these!
Many of you may be familiar with buckwheat, but not sorghum flour. Puppy Boy and I are gluten free for health reasons, this means we don't eat anything with wheat, rye, or barley. Sorghum flour can be difficult to find, so feel free to substitute a different flour of your choice if you can't find it, or if you choose not to use it.

Pumpkin Pie Pancakes
Dry Ingredients
1 cup buckwheat flour
1 cup sorghum flour
4 Tablespoon sugar
2 teaspoon baking powder
1 teaspoon salt


Wet Ingredients
2/3 cup canned pumpkin pie mix or 2/3c canned pumpkin and 1/2t pumpkin pie spice mix
2 cup milk (use less or add more according to preference)
4 Teaspoon melted butter
2 eggs, slightly beaten

Measure the dry ingredients into a large mixing bowl and stir to combine.
Add the wet ingredients to the dry ingredients. Mix until combined.
Cook on griddle.
Makes about 24 4 inch pancakes.
Until later!